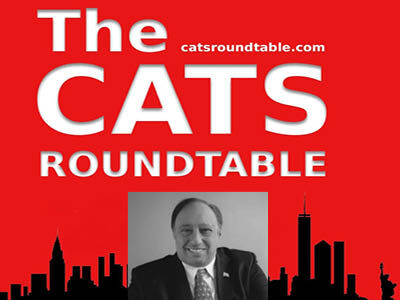 John Catsimatidis is the President and CEO of the Red Apple Group, a privately held company valued between $5 - 6 billion, with holdings in energy, refining, real estate, media, and supermarkets, and headquartered in New York City.
John and his family came to America from Greece when he was only 6 months old. The values his parents instilled in him - honor the family name, work hard, find mentors - led him to become one of the richest men in America. He is committed to civic duty and philanthropy.
Following a close but unsuccessful run for New York City Mayor in 2013, Catsimatidis launched The Cats Roundtable radio program in 2014. The one-hour Sunday morning show features a series of short, one-on-one interviews with some of the biggest names in politics, government, business, finance, health & science, and more.
John's interview style is about finding the truth -- the balance in every story. His honest and straightforward approach allows his guests to relax and deliver candid answers that set the headlines for the next day.
Most recently, John launched Red Apple Media and acquired 77 WABC-AM Radio, New York.
Show Links:
Sponsored By:
---
John Catsimatidis came from humble beginnings . . .
John was born on the Greek Island of Nisyros in 1948 and 6 months later his parents emigrated to New York City in search of a better life. They settled on 135th Street in Harlem and his father found work as a busboy and his mother was a stay-at-home mom.
John is a true son of New York; he was educated in both the parochial and public school systems earning his high school diploma from Brooklyn Tech. John enrolled in New York University to study electrical engineering; going to school during the day and working in a small grocery store on nights and weekends to help his parents pay the bills. During his senior year, with just 8 credits remaining, John dropped out of NYU to work in the grocery business full-time. By his 25th birthday he was already a success with 10 Red Apple Supermarkets scattered along Broadway on Manhattan's Upper Westside.
. . . and has lived the American Dream
Now, four decades later the Red Apple Group has evolved into a diversified corporation that has holdings in the energy, aviation, retail and real estate sectors and over 8,000 employees, with approximately 2,000 located in New York City. John and his wife Margo Catsimatidis live on Manhattan's Upper East side and are parents to 2 grown children; Andrea and John Jr.
John is a firm believer in giving back to the community and has been a strong supporter of the Police Athletic League for nearly 30 years.
He serves on the Board of Columbia Presbyterian Hospital, the Hellenic Times Scholarship Fund, and over the years served in a variety of volunteer positions in the Greek Orthodox Church.